MAKES FAKE NEWS FROM LEGACY MEDIA LOOK CHILDISH  , YET AGAIN

This   past weekend, President Trump and  the First Lady  hosted at the White House an openly flamboyant LGBT activist named Nikos Giannopoulos who was named Rhode Island's teacher of the year 2017—and whose "charming" photo of the three of them together in the Oval Office became an instant global social media sensation.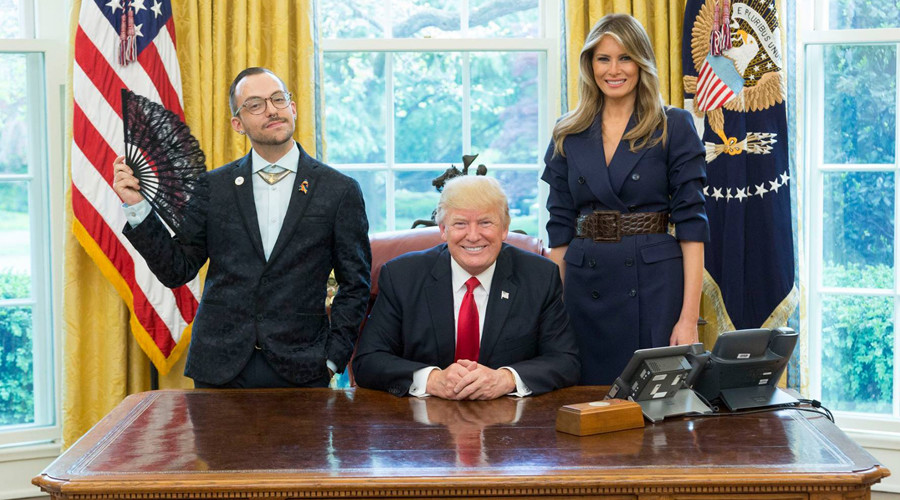 =10ptRhode Island Teacher of the Year Nikos Giannopoulos posing in the Oval Office with President and First Lady Trump on 17 June 2017
In the US, however, the American people were not allowed to know about this Trump-LGBT event due to its conflicting with the mainstream media's "FAKE NEWS " narrative that President Trump's election was "a catastrophe for LGBTQ rights in the United States" and that he was "conducting a quiet war" against his nations gay citizens—both of which are completely made up lies as President Trump has, in fact, ordered his administration to keep all of President Obama's protections for LGBT persons in full force.
At the same time these US mainstream media "FAKE NEWS " overlords were lying to the American people about President Trump hating his nations LGBT community, this report notes, they, also, began crying for their nation to "support Ukraine's vibrant transformation"—which is a complete lie as that nations gay citizens this past week received this chilling death threat:
"The holding in Ukraine of various LGBT forums, marches, equality, Kievprayd and other activities of homosexuals will be for you a tragic mistake.  No apparent support of the police will not help you. For us no problem to find each of you.  All the necessary information about your organisers and leaders [are] already [ours]."
I guess most of the Libturds here will already be in love with 'Fanny ' Nikos . I can picture dear old Cattlemad dribbling with excitement .